Find your move...
Regular fitness classes held at Blue Butterfly Dance Studios
Calm and Strengthen
Pilates
A head to toe workout designed to improve posture, increase flexibility and core strength. Slow, controlled and precise movements in a calm, relaxed environment will leave you feeling refreshed in both body and mind.
Mondays 20:00‑21:00
... or I can move you
at Blue Butterfly Studios
A tailored programme of exercise, designed according to your own goals, delivered at Blue Butterfly Studios. Plenty of equipment, plenty of space, no gym rats or lurkers. Just you, me, and up to 3 of your friends.
Personal Training is the best and quickest way to get the results you want. Programmes are designed and adapted specifically to you and your needs, with a qualified and experienced personal trainer guiding you to perform every exercise and stretch properly, ensuring you get the most out of each and every session. I specialise in fat loss, increased muscle tone and building body confidence, and additionally offer nutritional advice to help you reach your goals. Enjoy exercise with one-to-one encouragement and expertise and leave refreshed and revitalised.
Alternatively, do you have a group of friends with similar fitness goals? Benefit from the kind of tailored experience that personal training offers, but delivered to your group. Think of it like a small, informal class, where the content is specifically tailored to you and each of you gets one-to-one attention to ensure you get the most out of each session.
or at your workplace.
I offer 30 minute lunchtime sessions for offices and workplaces, that benefit the overall wellness of staff.
Spend 30 minutes away from your desk with either a Progressive Muscle Stretch Relaxation or Pilates for Sedentary Workers.
All I need is a quiet meeting room or similar space.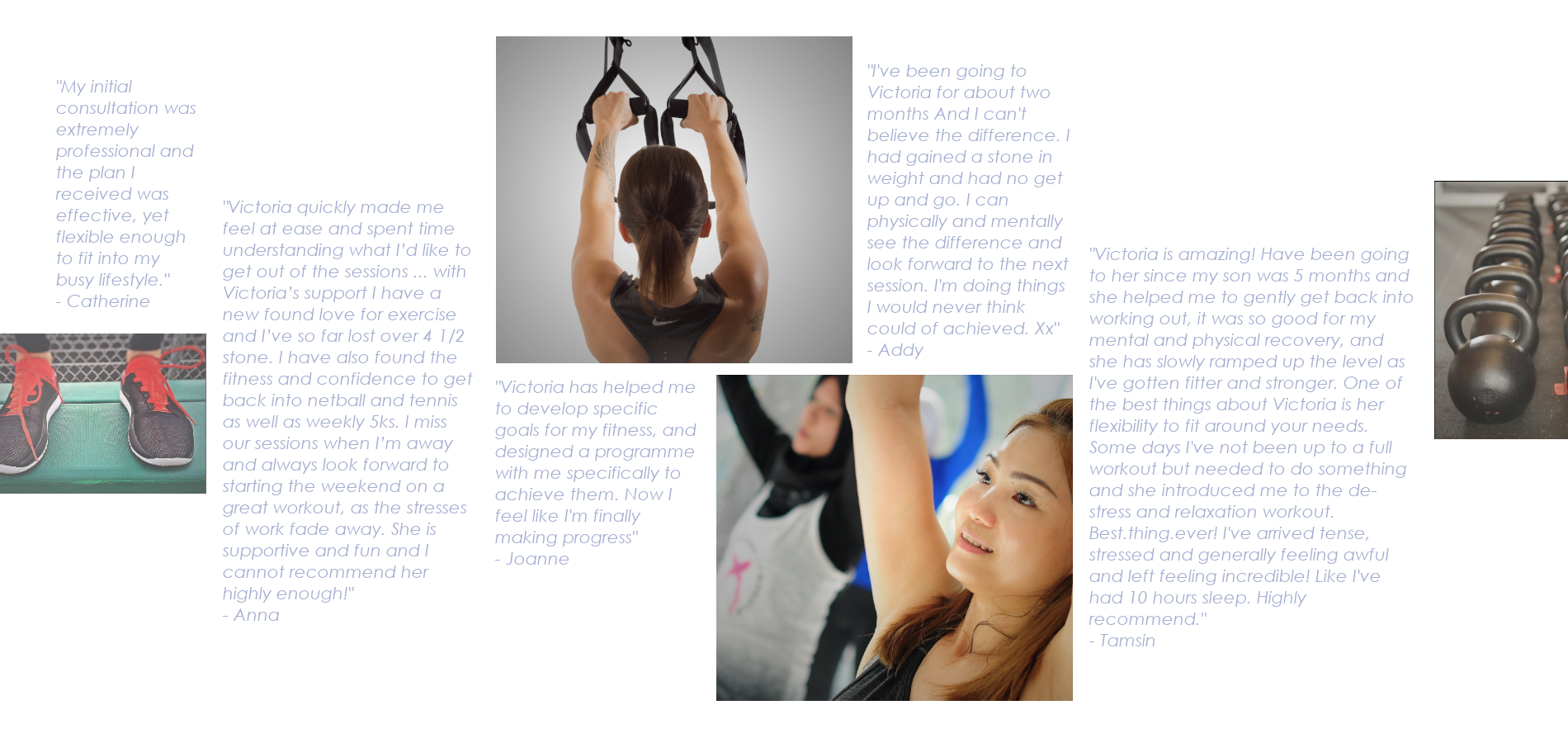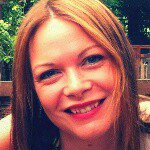 Victoria Woodward
Personal Trainer
As a Personal Trainer, I see a variety of different clients. What they all have in common is a desire to make a change, feel better and achieve their goals. I work hard to ensure that clients get the most out of their sessions with me and in their own time by providing workouts to do at home, tips, advice and encouragement to keep up the good work and stay on track to meet their goals.
I enjoy every minute of training my clients and I make sure that they do too by keeping it fun, light hearted but challenging with realistic goals being set and met.
The first step into a new routine is always the hardest, but the moment you finish your first session, refreshed and re-energised, you'll be glad you took it.
Also, here's what other people say about me...
"I first met Victoria at Great Ormond Street Hospital for Children when she was doing a "Keep Fit Fair" for NHS staff about 14 months ago. She was very approachable and flexible in scheduling training sessions which suited me as I was very busy at work. She was punctual, non-judgemental with a sense of humour and was genuinely interested in my needs. She has been in my diary ever since with weekly sessions in the local park. She has incorporated various exercises in my routine, gradually increased the pace and changed my attitude towards keeping fit."
"I started training with Victoria Dodsworth 17 months after my baby was born even though I kept fit throughout my pregnancy I put on weight when I was breast feeding as I couldn't stop eating, it was a bottomless pit! I changed my trainer to Victoria and I eventually started seeing change in my body as she understood how I would see results fast being a woman herself. We started interval training, firstly it's fun and less grinding and secondly I am seeing results in my fitness level."
"Victoria quickly made me feel at ease and spent time understanding what I'd like to get out of the sessions ... with Victoria's support I have a new found love for exercise and I've so far lost over 4 1/2 stone. I have also found the fitness and confidence to get back into netball and tennis as well as weekly 5ks. I miss our sessions when I'm away and always look forward to starting the weekend on a great workout, as the stresses of work fade away. She is supportive and fun and I cannot recommend her highly enough!"
"Victoria is an excellent PT. Her enthusiasm and commitment is infectious. She trains with a perfect combination of tough (Victoria you're killing me!!.... Keep it going Lesley you've only got 10 more seconds to go!) To the" Well done! You did it!!!! " I've signed up to do many gyms and classes in the past, but I can safely say that I enjoy, yes ENJOY!! And look forward to my sessions with Victoria. She comes highly recommended."
"I started training with Vicky in a bid to lose some stubborn fat around my middle and generally tone up, in time for my wedding! Well what can I say, my overall strength and fitness improved so much in a short space of time. Each workout is tailored to you, Vicky will find what works best for you. She is nothing but supportive, our sessions are always hard work but always with an element of fun and encouragement. Vicky is always more than willing to work around you and will always try and fit sessions in to suit you, sometimes at very short notice. I would wholeheartedly recommend Vicky as a personal trainer."
"After various problems with my hormones and not being able to control my unhealthy eating I decided I needed to make a change in my life. Victoria was recommended to me by a friend and I am so grateful she was. Not only has she helped me get my fitness back and lose weight I have got my confidence back and have changed my whole perspective on eating. I still have a way to go but in the 10 weeks I have been seeing her I have lost half and stone, 11 inches from all over."
... so shall we get in touch?